It's All About Luxury Interior Design
When it comes to design, there is no one-size-fits-all solution just for a simple reason, each home is unique and reflects the people and should be designed to reflect the likes, dislikes, lifestyle of the residents. For those who want their homes to have the luxury quotient or want the rich look, interior designers often recommend incorporating various elements which accentuate luxury but the trick is it should not be over powering and should be a balanced act. Luxury interior design is all about creating a space that is both aesthetically pleasing and functional. Every detail, from the furniture to the lighting, is carefully planned and executed to create a cohesive look. The result is a home that looks and feels elegant, luxurious, without being pretentious or being without a soul.
There are many different styles that can be used while working on any interior design project. Some of the most popular include Contemporary, Classic, Art Deco, Gothic, Scandinavian and Modern styles. Each style has its own unique features and beauty which can be used to create a variety of looks basis the preference of the space owners.
Myth Brust- Luxury Interior Design
Luxury interior design is often shrouded in myths and misconceptions. Many people believe that it is expensive and inaccessible, and only a particular class of people can afford it. However, the reality is that luxury interior design is within reach for everyone. You only need the right designer who partners with you in this journey. There are many ways to incorporate luxury into your home without breaking your threshold. For example, you can choose to invest in quality materials that will last for years, or you can opt for designer brands that offer a high-end look without a high price tag. Additionally, luxury interior design is not just about looks. It is also about creating a space that feels inviting, comfortable, and personal. By taking the time to create a well-designed home, you can enjoy all the benefits of luxury living without the exorbitant cost.
Benefits Of Using Luxury Interior Design In Your Dream Home
There are many benefits to design your space, we often forget that this doesn't mean colours and buying out furniture. Designing your space is an art which has to be engineered. First of all, high end interiors can increase the value of your property. A well-designed, aesthetically appealing home will always be in demand, regardless of economic turmoil. Second, luxury interior design can help you create a more relaxing and enjoyable environment in your home. When every detail has been attended to, you can simply sit back and enjoy the ambience. Finally, incorporating elements which impart luxury interior design into your home can make it more inviting and hospitable for guests. Whether you're hosting a dinner party or a family get-together, your guests will always appreciate the effort you've put into making your home a comfortable and stylish place to be. Your space is also your statement.
Let's Get Started With Your Luxury Interior Design
If you're really interested in transforming your spaces into a luxury, there are a few things that you need to keep in mind. First, you'll need to find a designer or a firm that specializes in this type of skillset. Next, you'll need to decide what style you want to use and collaborate with your designer. Let your designer give you the requisite exposure for furniture, fabrics, and materials. Compose your space like an artist and be sure of using statement pieces in every area which accentuates the space to a whole new level. Finally, you'll need to put everything together and make sure it all coordinates well.
How To Find The Right Interior Designer
Now the biggest question is how to find the right interior designer. There are a few things you can do such as asking friends and family for recommendations, searching online, or contacting Chie Design. Chie Design is one of the best luxury interior designers in Mumbai. They have rich years of industry experience.  With their innovative approach to every project and great attention to every detail, they have gained a very good name in this industry.
How To Create A Luxury Feel In Any Room Of Your House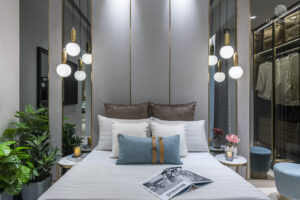 When it comes to creating a luxury, it's all about the details. Small touches can make a big difference in the overall ambience of a room, and there are several easy ways to add a touch of luxury without doing much effort. Luxury is something which is not available to everyone, it's EXCLUSIVE. Hence, one can trigger all five senses to invoke the feeling of exclusivity. For example, try adding a few scented candles or diffusers to your living spaces. Not only do they make the space have a distinct aroma, but it also makes it warm and inviting. Exclusive customized fabrics are another simple way to add a touch. Well-placed and exclusive rugs, art, artifacts, cushions, paintings can all help to create warmth and add character to the space. And finally, don't forget about the power of good lighting. Decorative lights, chandeliers, general lighting with automation playing with the requisite lux levels help to create the magic required. By making the right changes, selecting the appropriate detail with the required materials you can create the space as intended.
Why You Should Use Only High-Quality Materials
When you're working on any interior design project, it's important to use high-quality materials. This includes using furniture that's made of solid wood, as well as using fabrics and materials that are durable and have a high thread count. In addition, you'll want to make sure the finishes on your furniture and accessories are flawless. By using high-quality materials, you can ensure that your space will last for many years to come.
Pro Tips That Help You To Keep Your Luxury Home Well Maintained:
Once you've finished with your project, it's important to take steps to maintain it. This includes regularly dusting and vacuuming, as well as using furniture covers when you're not using your space. In addition, you'll want to make sure you keep an eye on the finishes and materials so they don't get damaged. A few other steps, so you can ensure that the life of your investment is enhanced.
# Ensure colour, oil, grease spills are cleaned as soon as they occur. It is much easier to clean a small spill than a large one that has been allowed to dry and set in.
# Protect your marble floors with a protective coating. Add rugs to your spaces, it not only adds an elegant touch to your home, but they also help to protect your floors from dirt, scratches, wear and tear. Choose rugs made from natural fibers for the best results.
# Deep cleaning of the space every 6 months is recommended, to ensure longevity. This also includes all fabrics, loose furniture fixed furniture etc.
# Paint and wall paper touch-ups become a must after a couple of years to maintain the look, as over the years there might be scratches, stains which might become an eye sore.
For the best luxury interior designer and turnkey design contracting solutions please connect with us at www.chiedesign.in or reach us on +919152988094
Interior Designer in Bangalore