Chie Design is an Interior design company that is established out of Mumbai, India. It is a design practice with a collective of creative designers. The company understands that design has an unusual power to impact and change the world.
The company acknowledges the importance of good design for home design by architects, commercial interior designs, or interior design for any other spaces. They create efficient, high-quality, trending designs that depict timeless aesthetics with unmatched quality parameters.
Chie Design understands that the process of creative design accounts throughout the execution via a collaborative and inclusive approach method with the clients. The main goal of the company is to go beyond the expectations of its customers. They concentrate and continuously examine the trending and innovative ideas to make memorable experiences for the future.
The Company with International Design Standards:
Chie Design is a company that has worldwide ark and international design standards. The company wants to imprint its name for working efficiently and effectively across borders. The founder of the company has been linked with some of the prestigious names in the industry and has performed a great amount of net worth both in India and abroad.
The aesthetics of home design interior of this company is related to modern trends and are internationally recognized. The design patterns are very innovative, luxurious, and admirable. The team of experts in the company are completely engaged in every project to make them innovative and desirable with new design solutions. These features have made this company one of the most respected, recognized and best interior designer companies all over Mumbai, India today.
Ideas For Great Home Interior Design: 
Chie Design assists you to make your Home Design by an architect with remarkable interior designs. The company creates an inspiring and outstanding interior design that makes your home look sober and elegant at the first impression of your guests, which every homeowner wants. It's a great feeling for a homeowner to hear some good compliments from the loved ones.
To assist you in making your home look elegant, here are some of the ideas from interior designer Chie Design by which you can make your home interior design look stunning and have a long-lasting impression.
Go For Some Interesting Play with Lights: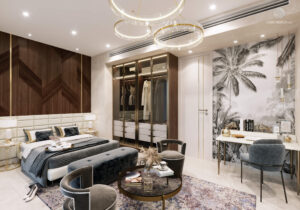 Designing your home with the latest trending lights. By playing with different lux levels and decorative lights you can create the best aesthetic options that can make your home look elegant. By applying these elements you can create a lot of drama. E.g. Pendant lamps are a good choice for your home design interior. When choosing a pendant make sure that the product is of great quality, it should be of a unique design that attracts attention and makes that corner stand out. Use a warmer color of light for the private spaces. Mood lighting helps combine various lux levels basis the use of the space.
Embrace Open Plan Design:
For a Modern interior designer preferences are generally towards an open floor plan design. It's a great idea to keep the space minimalist but at the same time accentuate the space with artistic furniture pieces with design elements flowing through the walls and ceiling tying up the entire story to create an impactful space. Chie Design recommends the adoption of open plan design basis the space available as per the layout.
 Metal Design Elements:
One of the most effective interior design ideas that you can implement to your home is to add metal as design elements, such as metal trims on paneling with molding, bronze furniture or decorative show pieces that are made up of brass or stainless steel with a champagne gold or an antique brass finish. Applying unique finishes to metal definitely adds glamour and the luxury quotient to your home interior design ideas but they are best when used in collaboration with fabric and veneer.
Decorating with Indoor Plants:
Indoor Plants are an amazing way to make your home sober and attractive outside and inside both. If you want your home design interior to stand out, you should have some green to decorate your space. Put some of the plants in your living room to elevate the look of the house. Use some plants on your deck that will make your home look elegant from both inside and outside.
Don't forget to Dress up your Walls:
The team of professional interior designers of Chie Design believe that stylish wallpapers are now trending and are in demand for a great interior design. To make an everlasting impression you should design your walls with exclusive wallpapers. When choosing wallpapers you should consider the importance of unusual and unique patterns, the colors of the wallpapers, and designs. You can opt for general wall paper as well as a highlight wall paper made of leather, fabric etc. You will be spoilt for choices.
Elevate your home with unique furniture:
Decorating your home with unique customized furniture is now the latest trend. The most inspiring feature of this is that it serves as an art piece yet gives a comfortable and cozy usage. E.g. Using a wooden staircase can make your home look warm and royal or using a tufted sofa with an elegant fabric will enhance the space to the next level. These interior designing ideas for your home make them look comforting and fresh yet excusive.
Opt for the right colors:
To make your home the right way color plays the most important role. It has to allow the design elements added on walls, ceilings, furniture to do its magic. One should be very careful while choosing colors for your interior spaces. If you want your home design interior to stand out and look attractive you should stick to shades such that it works best with the lights accentuating the space and not making the space over whelming.
Your Trusted Partner
Chie Design with their vast experience in home design interior and construction of a broad range of luxurious properties, have gained great experiences with international interior designers, and home design by architects. The company has acquired the expertise that makes them your perfect partner for your home interior design. The experts pay complete attention and put all their efforts to give you a seamless experience throughout the journey of your home interior design. The company works on every detail effectively to provide better results for their clients. Chie Design truly partners with you in your journey for "Design Your Identity".
Interior Designer in Bangalore